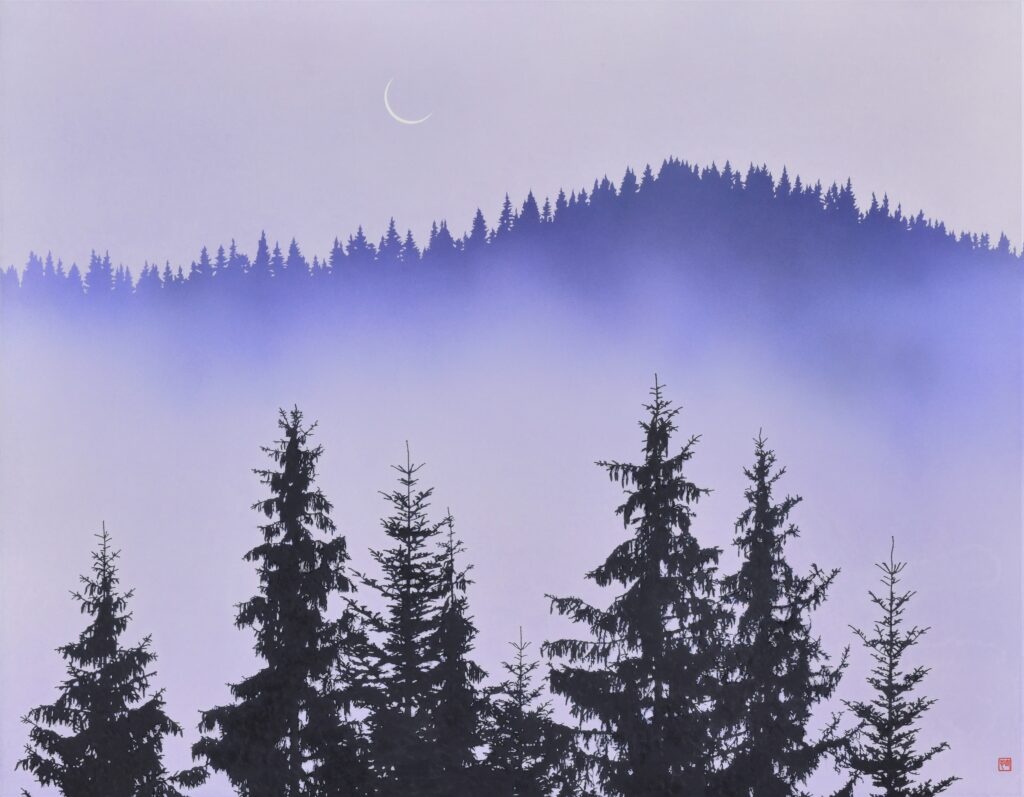 江川 直也
2023年10月5日 - 2023年10月28日
/
PARIS
開催概要
この度、ギャルリーためながパリでは10月5日(木)~10月28日(土)まで、江川直也のフランス初となる個展を開催いたします。
1988年生まれの江川は京都造形芸術大学にて菅原健彦から学び、近年では上野の森美術館大賞展や山種美術館・日本画アワード奨励賞など、数々の賞を受賞しております。
江川は光と雰囲気をうつす名手として、幽玄な空気の漂うイメージを創りだします。キャンバスの余白のように広がる水辺、あらゆる場所をやさしい柔らかさで覆う雪といった自然の風景は、深い静寂に包まれています。
この機会にぜひ江川直也の作品をご高覧いただきたく、ご案内申し上げます。
・・・
Opening: Thursday, October 5th, starting at 6 pm – with the artist in attendance.
Galerie Taménaga is delighted to present the very first solo exhibition in France dedicated to the Japanese artist Naoya Egawa (born in 1988). Trained at the Kyoto University of Art and Design under the enlightened guidance of his master, Takehiko Sugawara, Egawa's talent has recently earned him recognition, including being among the laureates of the prestigious Grand Prix of the Royal Ueno Museum in Tokyo and the Nihonga Prize awarded by the Yamatane Museum of Art in Tokyo.
For Egawa, nature transcends its role as mere scenery to take on a sacred dimension. It serves as a perpetual invitation to the act of painting, an inexhaustible source of forms. Like an explorer in search of new horizons, the artist ventures away from his studio, captivated by the majestic mountains and dense forests that surround him. In his paintings, nature becomes an open door to introspection, revealing the intimate emotions he experiences in its presence. A virtuoso of light and atmosphere, he manages to freeze visions bathed in an ethereal aura, landscapes shrouded in profound silence, where bodies of water stretch like blank canvases, and where snow blankets every corner with gentle softness. His works transform into visual poems, silent songs of nature, inviting us to explore the depths of our own essence.
As a member of the Nihonga movement, Egawa demonstrates exceptional mastery in employing an extremely complex technique. Drawing inspiration from woodblock printing, a comparison he holds dear, he employs a layering method that has become emblematic of his style. With meticulous application of successive layers of paint, he works diligently from the background to the foreground, thus creating a perspective of remarkable clarity that bestows captivating depth upon his landscapes. Furthermore, his masterful ability to capture atmospheric effects places him on par with great Japanese masters such as Yokoyama Taikan (1868-1958).
作品一覧