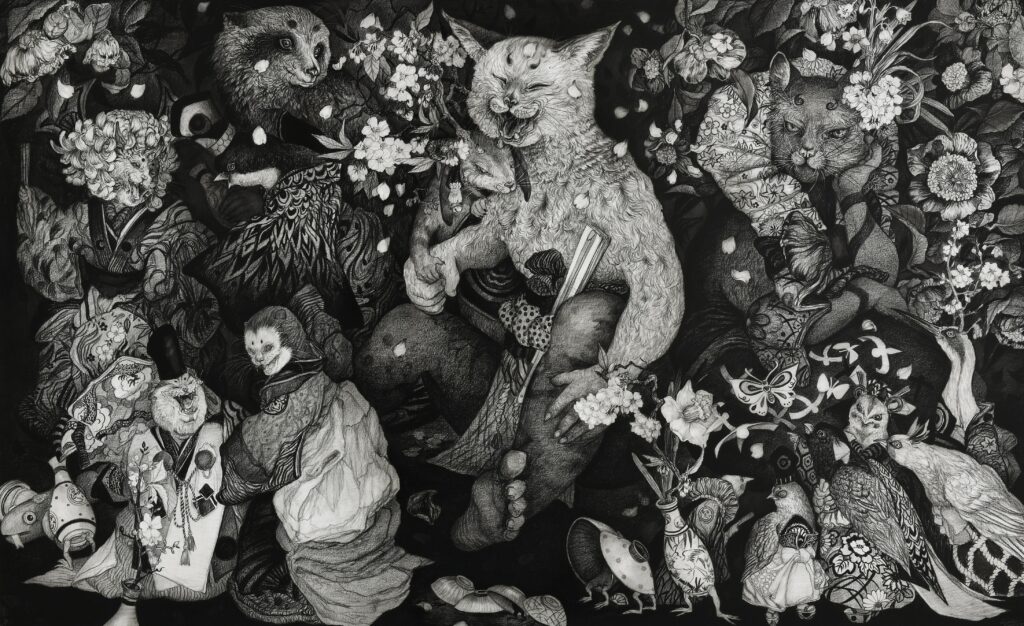 Maiko KITAGAWA ─ Floral Invocation ─
28 October 2023 - 26 November 2023
/
TOKYO
About
We are delighted to announce that Galerie Taménaga will host Maiko Kitagawa's solo exhibition "Floral Invocation" from October 28th (Saturday) to November 26th (Sunday). Kitagawa, whose popularity has soared through numerous exhibitions both domestically and internationally, started with her participation in the 2018 group exhibition "Nouvelle Ère du Japon" in Paris. She is now set to mark this occasion with her very first solo exhibition.
Kitagawa exclusively employs a black Dermatograph (oil-based pencil) on white paper, creating a monochromatic realm in shades of black. Set against the backdrop of Japanese wildflowers, animals take center stage in her artworks. Adorned in human attire, occasionally singing and dancing, engaging in puppetry or mock battles, they entice viewers into an exciting and imaginative world. One can almost hear the whispers of these creatures, as if they were meant to be overheard. What stories do these lively beings in the composition have to share?
For Kitagawa, the darkness serves as the "gateway to curiosity and imagination." In her world of black, fragments of memory merge with imagination. Chasing the ever-changing contours of illusion and imagination, suddenly, flowers start to bloom on the screen, serving as a catalyst to bring forth the presence of creatures and unfold the fantastical realm. The exhibition title, "Floral Invocation," embodies the artist's anticipation for the arrival of such flowers in the darkness and the celebration of this encounter.
We are pleased to present approximately 40 new pieces in this exhibition. We are confident that viewers will experience the sensation of stepping into a dynamic and enchanting world. We cordially invite the viewers to immerse themselves in the artist's world of darkness, meticulously crafted through her artistry and underpinned by extraordinary talent.
Selected artworks
Daytime Darkness Under the Summer Trees

Marebito

Dependents at Play

Celebration of the Moon

Shout of Victory

The Orphan Dragon

Puppets

Nue and Nekomata
Location
7-5-4 GINZA,CHUO-KU
1040061 TOKYO
JAPAN
11:00-19:00 MON to SAT /
11:00-17:00 SAN and HOLIDAYS