Nuit Sano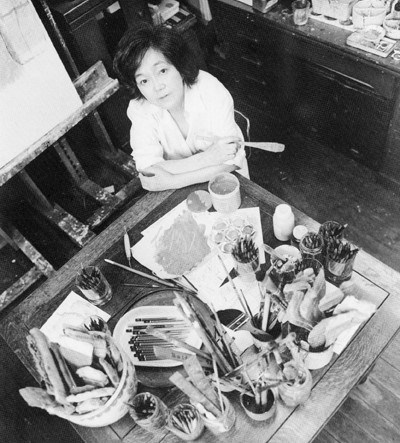 One of the first Japanese artists specialized in abstract painting, Nuit Sano was born in the prefecture of Aomori in 1932. She studied at the Joshibi University of Art and Design. In 1955, she was graduated from the École Supérieure des Beaux-Arts. In the same year, she received the Madame T Award. She traveled in Europe, United States and North Africa to pursue her studies. In 1965 she received the New Creator Award at the Salon de la Nouvelle Création. In 1969, she received the Nikko Prize at the Salon des Femmes Peintres.

As suggested by the titles of her abstract paintings – "Dark Blue System" and "Blue Contrast Zones", Sano explores her own prosody of the color blue. Different tones of blue are carefully arranged on her canvas and together form a card of emotions and create a certain type of atmosphere.

While widely exhibiting her work in national and international exhibitions, Sano has contributed greatly to arts education by teaching successive generations of young artists her alma mater. Her works are collected by many public museums such as the Tokyo Metropolitan Art Museum, the Yokohama Art Museum and the Ueno Royal Museum, as well as by many private institutions.

In 1972, she received the prize of excellence at the Salon of the New Best Selection. In 1986, the Ministry of Culture acquired one of his works. From 1987, she teaches at the Tokyo School of Fine Arts cheap replica watches. In 1991, she participated in the exhibition "A New Wave", (London). Her works are preserved in eleven Japanese museums and in important private collections in France, the United Kingdom, Brazil and the USA.
Selected artworks
Region of Ultramarine

Flower
Publications
Abstraction Japonaise