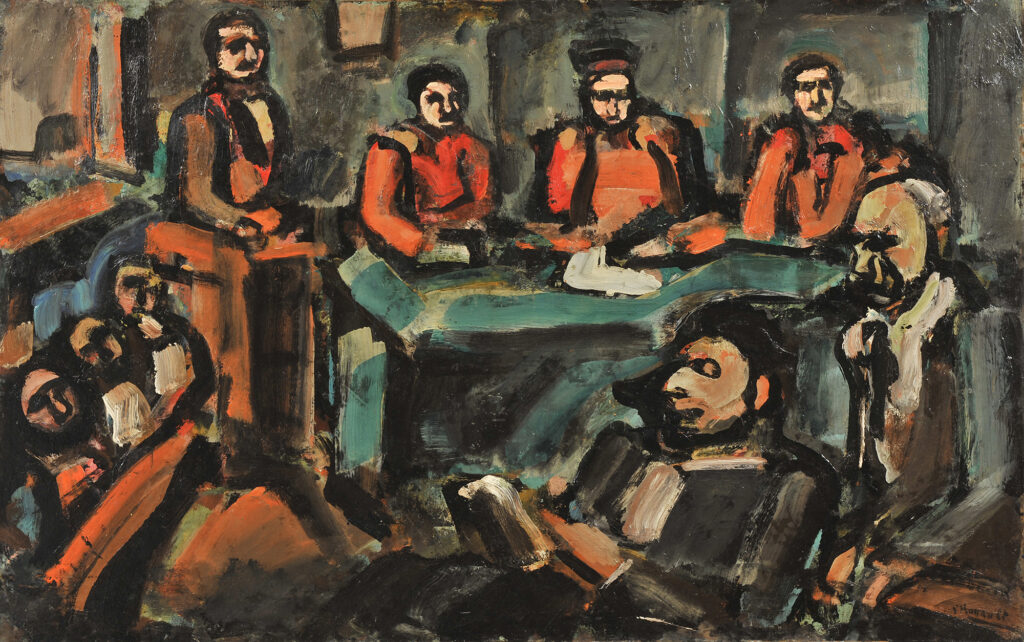 Rouault
18 February 2023 - 12 March 2023
/
OSAKA
About
French painter Georges Rouault (1871-1958) is widely known for his deeply spiritual works with rich human and religious resonance.
Galerie Taménaga Osaka is pleased to present the exhibition of Georges Rouault as the first exhibition of 2023 from 18 February to 12 March. The exhibition will feature over 30 masterpieces, mainly oil paintings, covering 70 years of his painting career, from his early years until his death.
Born in Paris in 1871, Rouault apprenticed himself to a glass painter at the age of 14, then studied drawing at the École des Arts Décoratifs. In 1890 he entered the École des Beaux-Arts and became a pupil of Gustave Moreau the following year.
Often associated with Fauvism or Expressionism, Rouault developed his own style of painting influenced by stained glass art, with thick black outlines and a rich pictorial surface created with vivid colours. Rouault's unique thick layers of pigment were applied over many years, sometimes for as long as ten years, as he continued to add brush strokes after completion and refused to exhibit works that he considered "inachevées" (unfinished).
Rouault's works tend to highlight Christian themes as well as social justice. As a result, in the early years of Rouault's career, he painted mainly figures such as clowns and judges, and in the latter half, he painted landscapes with Christian themes. Rouault's subject matter and style evolved minutely with the artist's spirituality, always focusing on the true nature of humanity.
"M. Geoge Rouault is one of the most curious, the most inquiring, the most ambitious of true art, the most searching, the most picturesque, the most debatable and, in the good sense of the word, the most debatable, among the painters of the present time". -Gustav Kahn
We are delighted to present this major exhibition which we hope will allow visitors and collectors to discover the great artworks by the masters of 20th-century art.
・・・
Press release (JP)
March 2023 issue of the Art Monthly (月間美術)
Selected artworks
Decoration Flower

The Saint Face

Clown with Marionnette

The Provincial Court
Location
1-4-1 SHIROMI, CHUO-KU HOTEL NEW OTANI OSAKA – ARCADE 1F
540-0001 OSAKA
JAPAN
11:00 – 19:00 OPEN EVERYDAY