Yuichiro Sato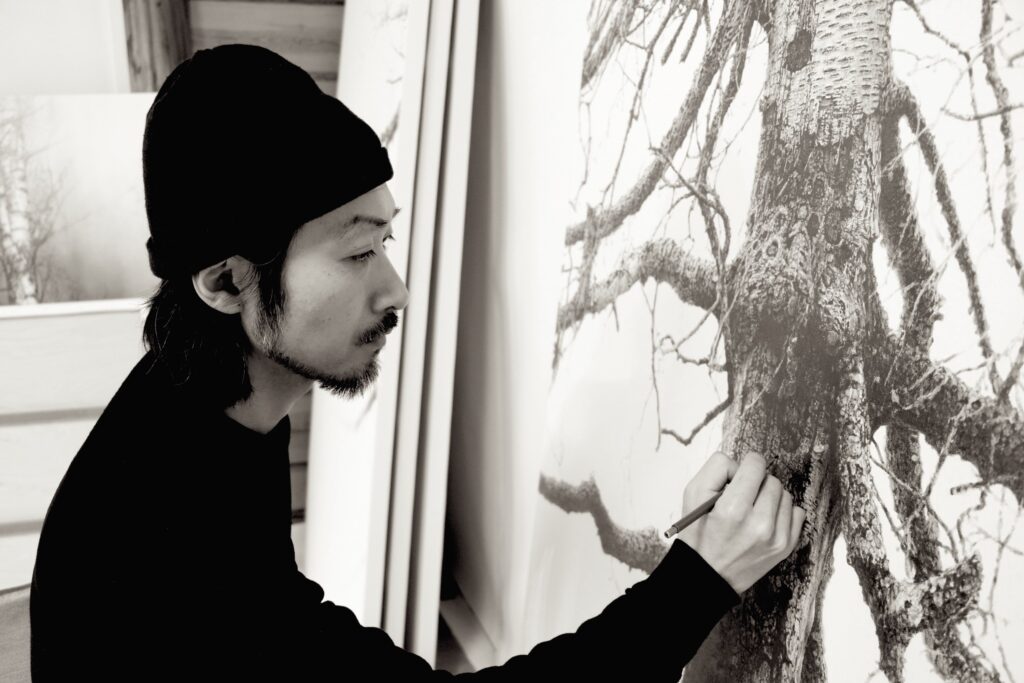 Born in 1979 in Yamagata, Japan, Yuichiro Sato attended the Tohoku University of Art and Design and graduated with a degree in traditional Japanese painting.
In 2016, he left Japan to settle in Finland. He planned to stay for only one year, but once there, became fascinated with the landscapes of this country which gave him new inspiration. Initially resident artist in Järvilinna, he finally decided to set up his studio in Kuhankoski, a village in Laukaa, where lakes and forests occupy a large majority of the land area.
After a series of exhibitions in his home country, Japan, he has had several solo exhibitions in Finland, including at the Jyväskylä Art Museum. His work is now on display in various public collections in Japan, Italy and more recently in England at the British Museum.
Sato first photographed these landscapes during walks in the surrounding forests. These photographs became the basis for his large-scale works, limited to black and white tones. Influenced by traditional Japanese art, known as nihonga, in which he was initially trained, Sato retains his sensitivity to nature and the variations of light.
He uses lead pencil as his only tool, and applies himself to drawing realistic and extraordinarily detailed representations on paper, from the infinitely small to the infinitely large. More than an impression of the visible world, Sato's work tends to retranscribe the invisible: the powerful smell of the coniferous trees, the freshness of the air, the roughness of the bark and even the sound of the forest. Sato creates immersive works in which the viewer is invited to rethink his or her relationship to space.