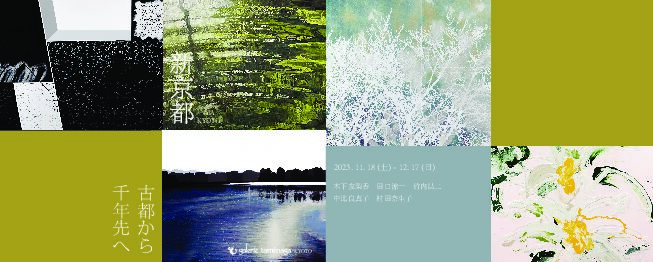 新京都 IMA KYOTO ─ FROM THE ANCIENT CAPITAL OF JAPAN TO A THOUSAND YEARS AHEAD ─
18 November 2023 - 17 December 2023
/
KYOTO
About
Galerie Taménaga Kyoto is pleased to present "Ima Kyoto" from November18 (Sat) to December 17 (Sun), featuring the works of five young artists with ties to Kyoto. These artists have produced approximately 40 artworks that encompass a diverse variety of mediums, such as oil and acrylic, and genres, such as nihonga (Japanese-style painting).
Yurika Kinoshita brings to life abstract depictions of flowers and plants from her childhood using paint. Ryoichi Taguchi, on the other hand, creates nihonga by combining discoloured metal foils. Shoji Takeuchi captures the essence of the flow of time in silent contemplation through his evocative nihonga. Masako Nakahira utilises oil paint to craft fleeting and transitory scenes, capturing the flash of the moment. Lastly, Naoko Murata explores the concept of time through her acrylic paintings, integrating this theme into hercollage-based creations.

This exhibition was born out of a desire to show the audience the enchantment of contemporary Japanese artists from Kyoto. This is a city deeply rooted in the inheritance of exquisite Japanese culture and art, cultivating an aim to create works that will endure for many generations. We invite the viewers to immerse themselves in the captivating atmosphere of this ancient city, enjoying the works of these young talents whilst adorned in the hues of autumn leaves.
Location
265-7, KAMIHORITSUMECHO,
HIGASHIYAMA-KU, KYOTO
605-0991 JAPAN
11:00AM – 7:00PM OPEN EVERYDAY